What is HexProg Tool?
HexProg is a high-performance tool in both hardware and software for Chip tuning, Ecu cloning and other programming tasks.
What HexProg can do?
Using Hexprog you can do the following:
Ecu cloning/tuning of wide range of brands (Check Supported List). This function is free for 30 days, details are in F.A.Q.
Read and write safely CAS2,CAS3, CAS3+, CAS4, CAS4+ all flashs without removing any component.
Read and write safely Porsche BCM without removing component
Repair corrupted EEPROM in CAS3+
Edit CAS3+ and CAS4 ISN and VIN
Reset mileage for CAS
Repair FRM in just one click
Read and write many other modules in different car models like Mercedes Benz, Audi, Land Rover, VW,..etc
Dashboard EEPROM Reset like M35080, 080D0WQ, 160D0WQ,…
Key Renew for many brands like Audi, BMW, Porsche, Land Rover, VW, Chrysler, Renault,…
HexProg Tool function descriptions
On Bench Chip Tuning/Ecu Cloning:
You can read and write P-Flash, D-Flash, External Flash, and external EEPROM with the option of automatically checksum correction, you will have two methods in most of Ecus:
Factory mode: with this option you don't have to open the Ecu cover. Just plug some wires for power and signals and you are ready to go.
Boot mode: Opening the Ecu is mandatory to connect the boot wire on the Ecu board. This method is useful when the Ecu is not responding.
OBD Chip tuning:
Hexprog starts supporting OBD functions in early 2021, It supports read/write the map area, (virtual read is supported too). It also includes important functions in some Ecus, like VIN Changing, Coding backup/restore and Fault codes read/erase.
Microtronik has a huge experience in all types of car Ecus flashing and coding, we deployed this experience in Hexprog to produce one of the safest programming tools by OBD.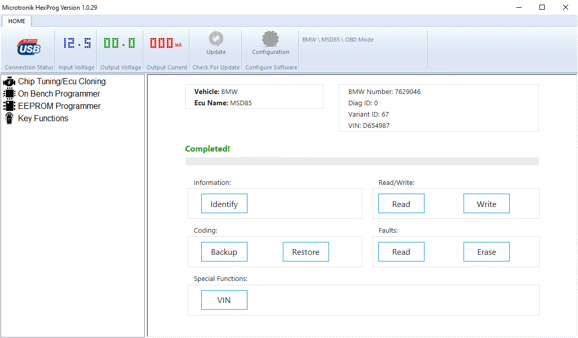 BMW ISN reading:
With Hexprog you can read all long ISN from any BMW Ecu including the latest Bosch MG1/MD1 Ecus starting from 2005 up to today's DME/DDE.
BDM read/write:
With Hexprog you are able to break the protection of immobilizers like CAS in BMW, EIZ/EIS in Mercedes Benz, BCM in Volkswagen and Porsche…etc.
Hexprog is the only tool can read/write CAS4 without de-soldering or cutting any part from the board. The same in most of immobilizers.
Built in Editors:
With Hexprog you can edit many Flash data like:
Edit CAS3+ VIN, ISN and keys
Edit CAS4, CAS4+ VIN, and ISN
Edit mileage for BMW instrument clusters
Repair BMW FRM:
BMW E series has a serious problem with FEM, the data gets damaged easily.
With Hexprog you can repair the FRM 3 in one click.
Other functions:
You can reset mileage in protected EEPROMs like M35080, M35160, 080D0WQ, 160D0WQ, the process takes few seconds
You can do key reset for many brands like Audi, BMW, MINI, Porsche, Toyota, Fiat, Renault…etc.
Read/Write a wid range of SOP8 EEPROMs.
Works side by side with Autohex to make keys.
Compare HexProg to Hextag:
Both Hextag and Hexprog have exactly the same functions. The difference is in the hardware structure. Below table shows the major differences.
| | | |
| --- | --- | --- |
| Feature | Hextag | Hexprog |
| Microprocessor Speed | 100 MHz | 220 MHz |
| External Memory | Not Available | Available |
| USB Speed | Full Speed (12Mbps) | High Speed (480 Mbps) |
| Power Protection | Good | Perfect |
| Key coil | Internal | External |
| Hardware Support For Future functions | Almost will be supported | Sure will be supported |
What you get:
Hexprog Ecu Programming main unit.
Hexprog Power module used for Ecu Cloning/Tuning function.
MPC5XX Module used for Ecu Cloning/Tuning of EDC16XX
BDM Cable (wires are same quality used in aerospace).
OBD Cable for read/write Ecu MAP area.
Module/adapter for renew keys and read/write SOP-8 EEPROM.
SOP-8 High quailty Clip to read/write EEPROM and reset mileage on bench.
Key reader/writer module, used for reading key status as well as making keys with Autohex
Custom Power Supply Adapter 12.5V 2A (starting from 2021)
Question: I want to use Ecu cloning function in Hexprog. Is it free of charges?
Answer: Hexprog have many functions, most of them are free of charges and lifetime free. Like BDM function, Key renewal function, EEPROM read/write function…etc.We offer for the

Ecu cloning function 30 days free

. After this period the Ecu cloning function requires a license to purchase before you can use it, there is also a yearly subscription applied on this function as well.The Lifetime License is

one time payment, it is USD 1000.00

, while the

yearly subscription is about USD 350.00

Question: Where I can get the supported Ecu list?

Answer: The supported List can be found here: Ecu Cloning Supported List